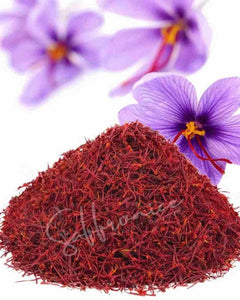 Mandana symbolizes destiny and goodness, which is why we have given her name to our 50 Gram saffron package. The perfect choice for those certain of good things to come.
Mandana was born a princess...and went on to become a queen. Her son Cyrus narrowly escaped death as an infant at the hands of enemies—and grew up to become King Cyrus the Great, creator of the first declaration of human rights.
FREE Worldwide Shipping
Saffron may be used for health and wellness
Saffron has always been regarded as a potent and versatile natural herb: it may be able to treat a wide range of ailments and keep the body in good health. So what are some of the ways in which saffron can help us live better (and longer)?
May be used as an anti-depressant: Saffron may affect the mood, In fact, in those parts of the world where saffron has been used the longest, saffron tea is often served at both the most sombre as well as the most joyous ceremonies: to soothe at funerals and to enhance the happiness of guests at weddings.
May be used as an aid to circulation: Saffron may be considered as an aid to good blood circulation, both by traditional doctors as well as herbalists. As such, it's an excellent addition to one's daily health regime.
May be used as a PMS support: Sometimes, our grandmothers know best! In the Middle East and the Mediterranean, women have recommended saffron tea as a gentle and natural way that may support symptoms of PMS. And modern science is catching up: new research backs this traditional wisdom by showing that saffron may indeed alleviate the physical and emotional discomfort of PMS.